I've recently started work on a Daemon army for the PCRC's Tale of Eight Gamers  project. Rather than the traditional green Nurgle Daemon skin that you often see, I wanted to try some more fleshy tones - well, rotting fleshy tones.
The formula I used is below. It uses Citadel paints unless specified otherwise.
Army Painter 'Leather Brown' undercoat
Tanned Flesh drybrush
Tallern Flesh drybrush
Elf Flesh drybrush
Details*
Devlan Mud wash (covering skin and details)
Leviathan Purple wash (covering skin and details)
Desert Yellow and Skull White on eyes
* And for the details...
Dwarf Bronze on all metal
Tentacle Pink on tounges, guts and open wounds
Adeptus Battlegrey on horns, teeth and claws
Scorched Brown on all wood and leather straps, bandages, etc
Adeptus Battlegrey followed by Skull White drybrush on all trophy skulls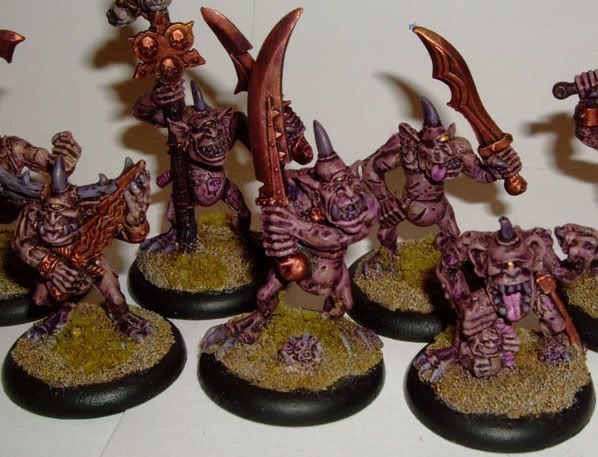 It's not the best of even the quickest technique, but it allowed me to paint 500 points to a good tabletop standard in an afternoon, so I hope that someone might find it useful!